*scroll down for English*
"Wachstum bedeutet anerkennen, dass Leben in beständiger Veränderung besteht.
Menschen, die sich selbst als ganz und etwas wert erleben, können mit allen Herausforderungen des Lebens kreativ umgehen."
Virginia Satir
Es macht mir Freude Menschen in Suchprozessen zu begleiten und Räume für Selbstermächtigung und Solidarität zu gestalten. Mich beschäftigt dabei wie Queerfeminismus, Systemtheorie, Tiefenökologie und Postwachstums-ökonomie verkörpert werden kann, denn das Meiste habe ich von Menschen gelernt, die weder aufhören zu lieben, noch für eine gerechtere Welt zu kämpfen.
Nach einem Philosophie/Ethik-, Englisch- und Sportstudium an der Universität Würzburg studierte ich Tanz am Broadway Dance Center in New York City und der Vertigo Dance Company in Jerusalem. Tanzprojekte führten mich später u.a. nach Barcelona, Stockholm, Teheran, Jerusalem und Ramallah.
Seitdem bewegt mich die Frage nach nachhaltigem Aktivismus. Ich arbeite mit Tanz als emanzipatorische Praxis in Leipzig und überregional (contact bewegen e.V.) und als Teil des queeren mixed-abled Performance-Kollektivs POLYMORA Inc. In Zusammenarbeit mit dem Queer Refugee Network der Rosalinde e.V. begleite ich Menschen mit Fluchterfahrung.
Im System.Körper.Raum in Connewitz arbeite ich seit 2019 als systemische Beraterin und angehende Therapeutin und Körpertherapeutin (GST, Gesellschaft für systemische Therapie, Berlin).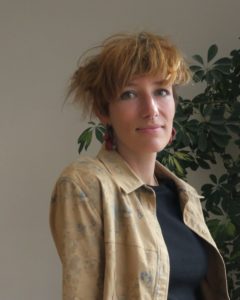 Arbeitsfelder
• Systemische Beratung, Therapie, Körpertherapie
• Systemisches Coaching
• Systemische Selbsterfahrungsräume und Aufstellungsarbeit
• Systemische körperorientierte Prozessbegleitung von Gruppen
• Projekttage zu gewaltfreier Kommunikation, Konsens, Beziehung und Sexualität (auch an Schulen)
• Kurse, Workshops, Seminare in Contact Improvisation / zeitgenössischer Tanz/ Playfight


---
English
I enjoy supporting people individually in their search process and creating safer spaces for self-empowerment and solidarity. I am curious how queer feminism, system theory, deep ecology and degrowth economy can be embodied in these fields. Most of what I have learned came from people who did not cease to love nor fight.
I studied philosophy/ethics, English and physical education at the University of Würzburg and dance at Broadway Dance Center in New York City and the Vertigo Dance Company in Jerusalem; Dance projects brought my work to Barcelona, Stockholm, Teheran, Jerusalem and Ramallah; With contact bewegen e.V. I co-organize events researching the political potential of Contact Improvisation; Since 2018 I study and work as systemic body therapist (GST institute, Berlin); In 2019 we founded our queer multi-abled collective POLYMORA Inc..
Fields of work
• Systemic body therapy
• Ressources activating and solution oriented counseling for indivuals, couples, collectives and (packwork)families with an emphasis on empowerment and alternative ways of living and family modells.
• Self-experience / systemic constellation work
• Contact Improvisation/ contemporary dance/ Playfight
Somatics for initiative
• Workshops on consent, communication, relationships and sexuality
• Conseil of contact bewegen e.V.
• Member of the collective POLYMORA Inc.